Burlington Portrait Photographer – Winter Session with Natasja
This Burlington portrait photographer loves outdoor portrait sessions, especially during a winter snow storm. For those of you who have been following me, you know that I participate in a world wide Scavenger Hunt, started by the lovely Chrysta Rae, on Google +. The scavenger hunt has been hugely exciting for me on multiple levels. I've been able to engage with a large number of very talented photographers from around the world. I've expanded both my ability and creativity as a photographer. And I've collaborated with so many different people in my photography creations. Some people have helped in making props, some have volunteered to help during a photo session – even getting up at sunrise on a cold winter's morning for some crazy Burlington portrait photographer's scheme. And of course a huge kudos goes out to the many different models I've had during the years that I've been participating in the scavenger hunt.
As a Burlington portrait photographer who loves outdoor portrait sessions, I know a lot of great local locations. For this portrait photography session I was trying to demonstrate the word "winter". I had this particular location in mind for this winter session, and was waiting for the perfect snowy day. I was thrilled when the snow storm came on a Sunday and my lovely model Natasje Macdonald was available. I had spent some time looking for a faux fur coat of sorts before I remembered that a friend had a great faux fur blanket. She was happy to lend it to me for the session. My concept was a cold, blue, Game of Thrones type portrait to demonstrate winter.
Here is our setting (check out that amazing snow!!). During the session I probably took close to 200 shots. Funny enough, the shot I chose was the first shot I took. That is rarely the case. In fact, for a huge percentage of my sessions, my favourite shot ends up being the last shot, the one that I squeezed in at the end by saying "Just one more!"
Back to the session – for my photography students – below is a good demonstration of how lenses work. Both shots were taken on an 80-400mm lens, both zoomed to around 220mm, both at an aperture setting of f5.3. Notice the difference in the backgrounds. The full body or wide shot on the right has a much sharper background. This is because I'm standing further away and she therefore appears closer to her background. I have focused on her and therefore her background is more in focus as well. For the image on the left – I'm standing closer to Natasje. I'm focusing only on her upper body. The background therefore appears much further away to the camera and therefore falls out of focus. This is the image I selected to make into my winter entry for the scavenger hunt.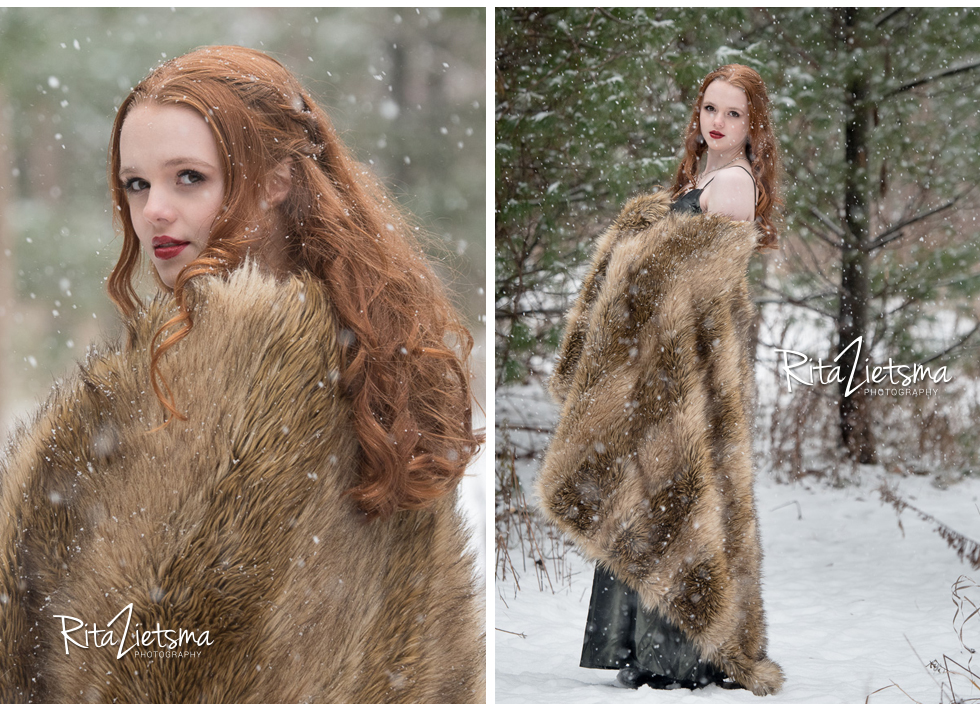 I brought the image into photoshop and played with the colour – making it almost a split tone image. After bringing towards the blues and purples, I had to bring back her beautiful red hair.  I definitely didn't want her to have blue hair. I also whitened her skin some more to add to the cold, icy feel of the scene. Lastly, I put a slight white fog on top of her fur to fade it into the scene a bit. This helped her face stand out more. Here is my final submission.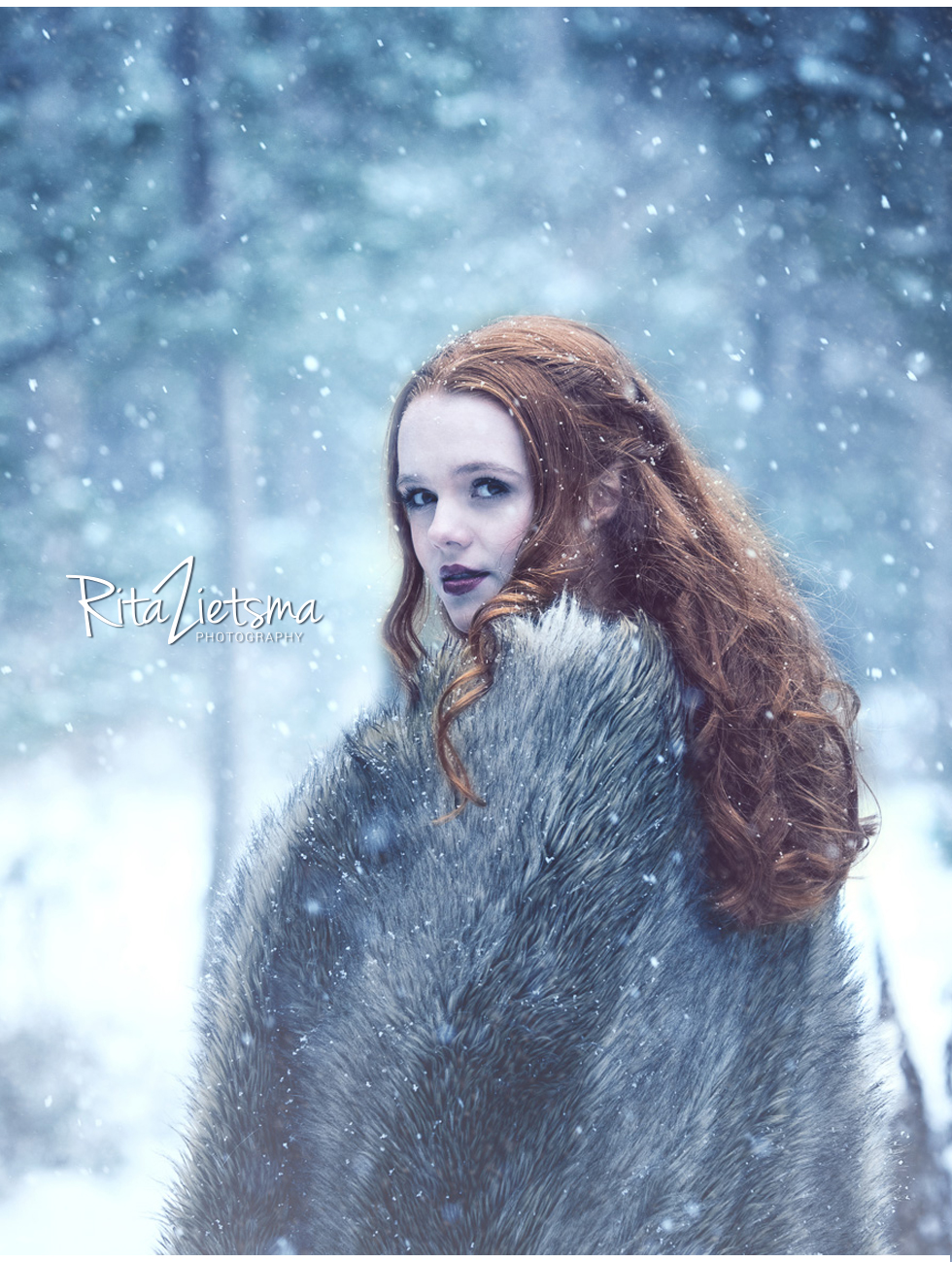 Of course with such a beautiful model, and the perfect snowy day it made sense to play around with our location and with some different looks.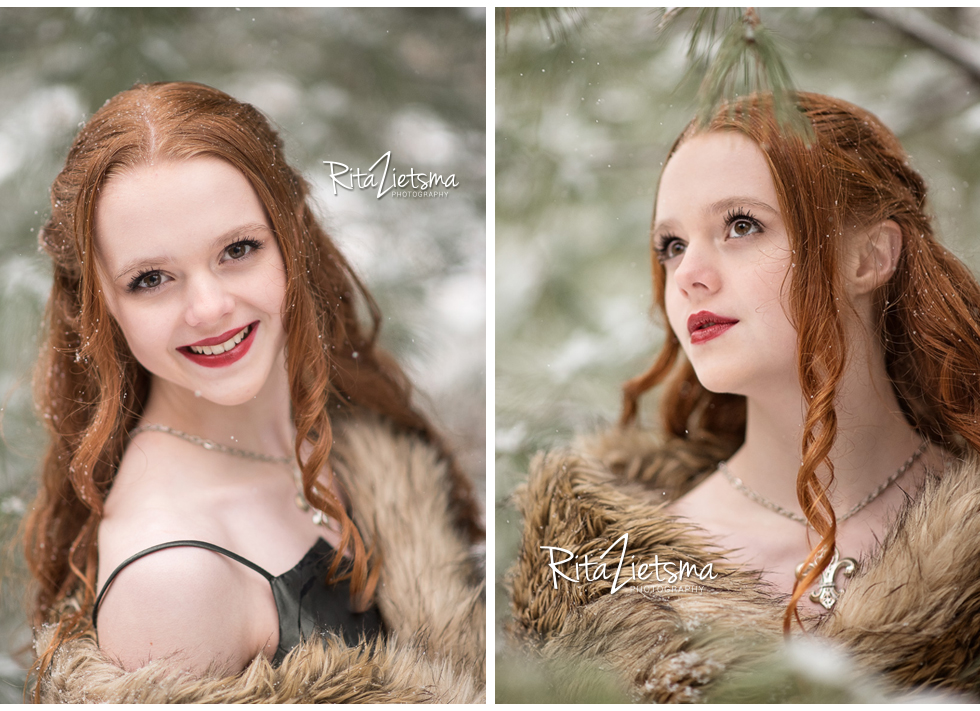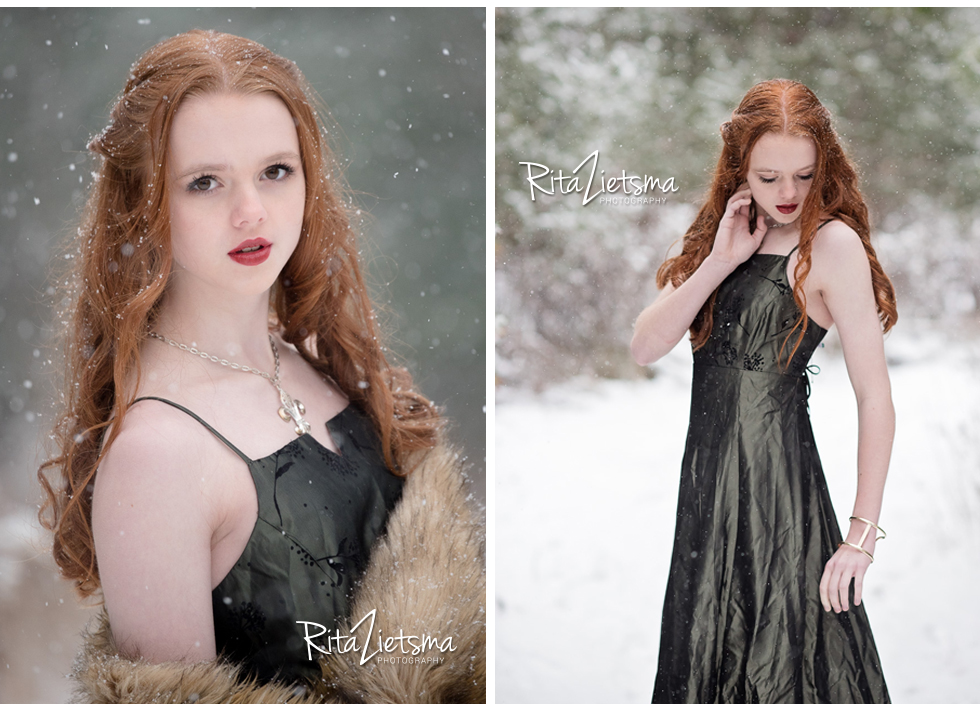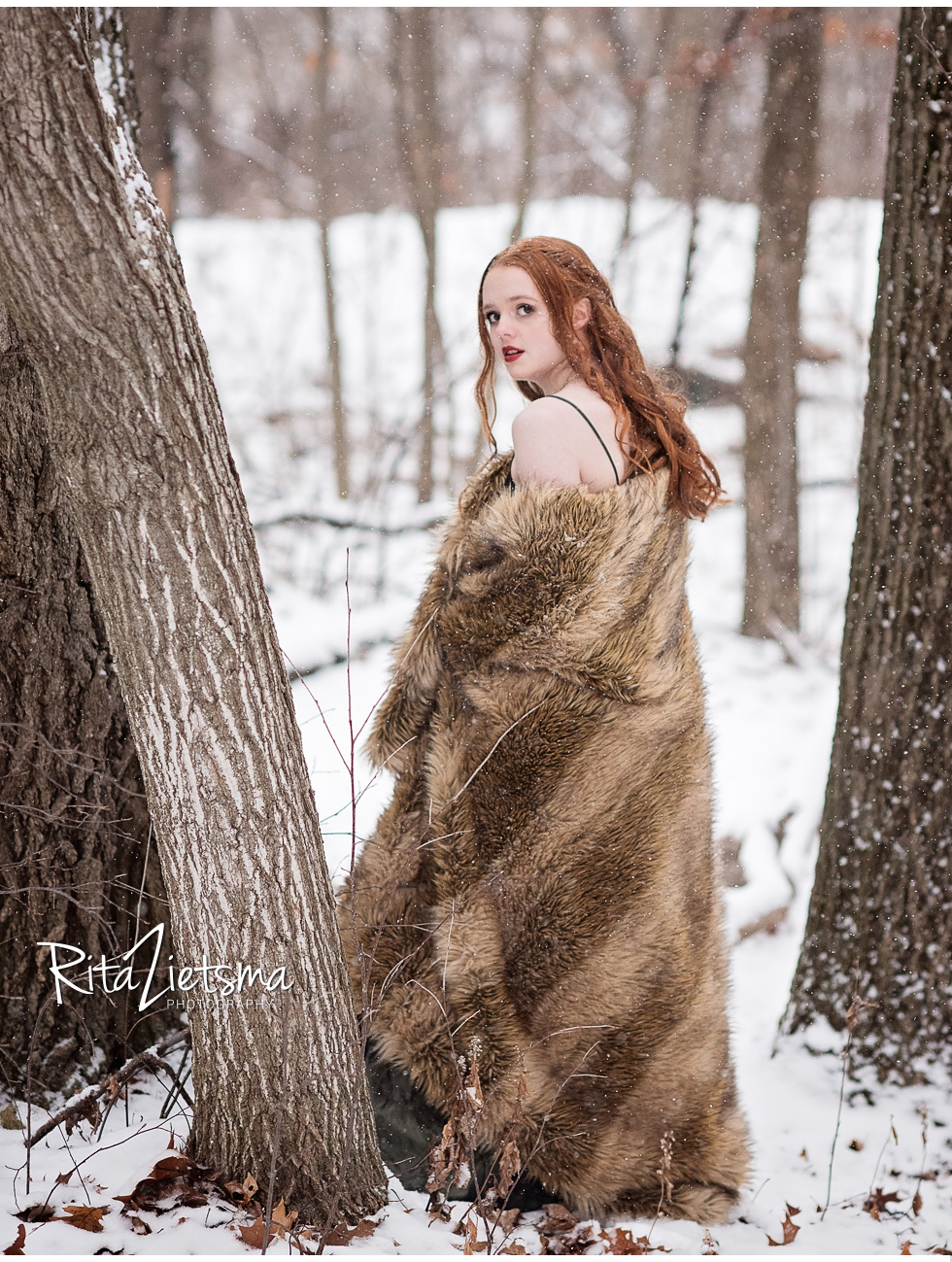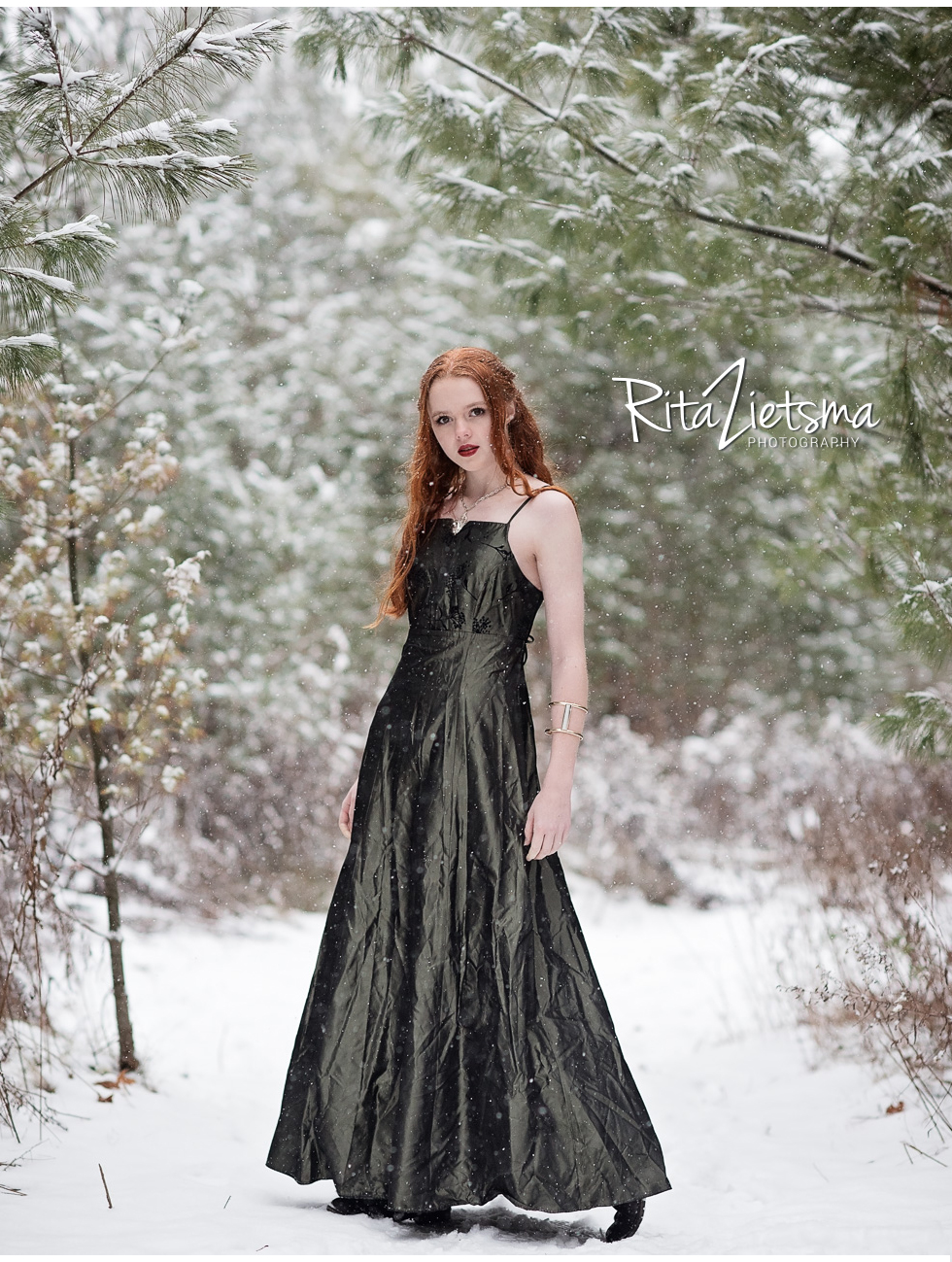 You really worked this session Natasja, despite the cold. You were amazing. Thank you so much. And thanks to Brigitta Macdonald for your help in making this Burlington portrait session so incredible. We are still waiting for the judges results on this one.